Arlington Heights Gutter Cleaning Service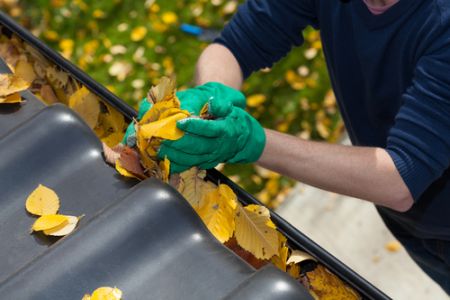 When fall comes, it is time for the leaves to begin turning with all of their vibrant colors and beauty. But one thing isn't so beautiful and that is a clogged gutter system caused by falling leaves. Not only is it a pain to clean out, but the long term damage a clogged rain gutter can create is substantial. At Active Painting, we take the hassle out of Arlington Heights gutter cleaning for you.  While gutter cleaning can be a hassle, it is important to your home.
So, why is gutter cleaning so important and just what is the damage it can cause if neglected? The main reason for cleaning gutters and making sure they allow rainwater to flow smoothly to the ground and away from your foundation is due to the damage that can occur to your home over time. This damage can include:
Foundation problems - Continued water leakage down the side of your home into your foundation will create cracks in the walls and leaks as well. In climates where the ground freezes and then expands constantly the problem can be even worse.

Mold problems - Mold is a huge issue today and this is yet another problem that clogged gutters can pose.

Siding problems - Water can cause wood siding to bow or become moldy over time.
In addition, excessive water can damage sidewalks, driveways, interior floors and in extreme cases it could even destroy your Arlington Heights home.
Pressure Washing Services