Color Inspiration for Your Interior Painting and Accent Walls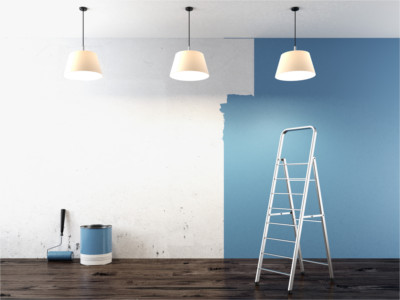 Color has a big impact on mood, so choosing the right paint color for your residential painting can be a daunting task. Although paint isn't absolutely permanent, when you hire a painting contractor to paint the inside of your Winnetka home, you want to keep that color for a while. When choosing an interior paint color, look to objects, landscapes, and trends that inspire you, and consider adding personality to your home by incorporating an accent wall to your favorite room.
Design Ideas for Your Interior Painting
Combine your beige fabrics with espresso brown walls for a sophisticated bedroom.
Hire a painting contractor to paint your entryway walls lavender to create a mesmerizing, ethereal vibe.
Choose black walls for your living room, and furnish the room with leather pieces to make a bold statement.
Match your burnt orange décor with moss green walls for a cozy and autumnal atmosphere.
Pair peach walls with kelly green curtains and décor, such as vases and plates, in your dining room for a fun, retro combination.
Apply mulberry paint to the walls of bathroom, and incorporate blush elements for a soft and sweet monochromatic look.
Design Ideas for an Accent Wall
Paint an accent wall orange in an otherwise white craft room or art studio for an energizing and stimulating atmosphere to keep your creativity flowing.
Pair a golden yellow accent wall with tan furniture to create a soft, warm glow.
Have your painting contractor apply a rich plum paint to an accent wall in your living room, and add round, bronze mirrors to the wall and a velvet sofa with patterned pillows for a luxurious touch.
Pair your dark wood furnishings with a forest green accent wall, and incorporate other rustic and botanical elements for an enchanting atmosphere.
Add a deep blue accent wall to a warm beige room with gray furnishings and metallic accents.
Paint an accent wall with black chalkboard paint in your dining room or kitchen so that you can sketch drawings and write down important dates, shopping lists, and motivational notes.
A reputable Winnetka painting contractor like Active Painting can assist you with your interior painting whether you decide to paint one accent wall or your entire house.