Arlington Heights Cabinets Refinishing Services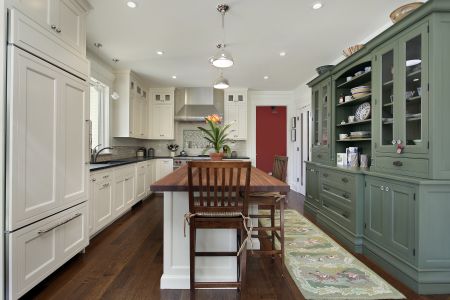 Very often after purchasing new home or just renovation your residence you think about replacing older and outdated cabinets. Honestly, older cabinets are often better quality, solid oak wood compare to new one MDF or veneer cabinets. Active painting solution for that would be refinishing existing ones without braking the bank. Although , refinishing cabinets and preparation process is not fast and very cheap refinished cabinets will look amazing and definitely will enhanced the look of the kitchen and still would be cheaper option than buying new cabinetry , paying for installation and new counter tops. Preparation
Professional Arlington Heights Painting Contractors
Kitchen floor will be covered up with redo rosin paper to protect from over spray and paint spotters , also plastic sheets will be placed on all furniture, counter tops and secured with blue ( wall only) and white tape . Appliances and all kitchen equipment will be also completely wrap up with plastic and secure with tape. additional , area we work in will be separated with plastic curtains.
First step before removing hardware and handles will be cleaning up the surface with degreaser and lacquer thinner to promote adhesion of primer.
All hardware and hinges will be unscrewed and placed away from spray area. All doors will be removed and lightly sanded with 150 and 220 grit before finish coat.
All wooden elements will be primed and left to dry for 1 day before next step.
After required drying time , all primed parts will be closely inspected for nail holes, cracks , wood damages and repaired. Latex interior caulking will be installed on all gaps. Wood filler and eventual car bondo ( depending on type of damage) will be used , sanded and prime again.
2 finish coats of Benjamin Moore Impervo oil base paint or high performance polyurethane with hardener will be used to provide long lasting durability and great look. Our Arlington Heights painters will use high performance HVLP finishing spray unit to provide almost automotive ( very fine, smooth ) looking surface.
After required drying time install all doors and drawers , install hinges and hardware .
Remove all protective sheets, plastic wraps, red rosin paper.
Now- you can enjoy your new looking , beautiful kitchen and bathroom cabinets.