Get To Know Your Options In Common Faux Painting Applications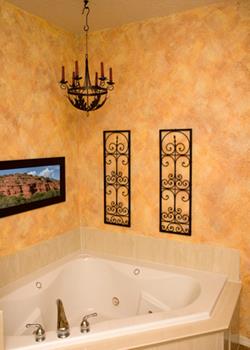 One thing is for sure, if you aren't aware that something exists, you can't ask for it.  This is true with common faux painting methods.  It would be near impossible to ask a painting company if they can provide you with a certain painting finish if you don't know it exists or at least don't know what to call or describe the technique you loved on your friend's walls.
There are a few common painting techniques that can be detailed enough to give you a way to describe them.  Commonly, you'll see faux painting techniques called:
Sponge Painting – Beautiful dapples of color effects with sponges.  Color is dipped in color, squeezed out, and then dabbed with the sponges.  You get a pattern shaped like the sponge shape you're using.  A solid base color is first applied and allowed to dry.  A wash or glaze is then applied with a damp sponge over the top to create a mottled look.  Allow to dry thoroughly and repeat as many times as you wish with varying color.  Be sure to apply light colors over dark and dry in between thoroughly.
Rag Painting – Accomplished with a rag, the outcome gives a crushed velvet, parchment, leather, or brocade effect.  Start with applying the base color and dry.  Dip the cloth in a glaze or wash and blot on the wall.  Ragging off means to lift the part of the glaze coat off the painted base to make it fade out and the undercoat to show through.
Stippling – This technique gives you a more subtle look than sponge painting or rag painting.  The outcome is more suede-like.  Begin by starting with a base coat either light or dark.  When dry, start working from the side of the wall to the other, applying a different color than the base. You can use a wash or paint.  Apply in 12″ wide strips from ceiling to floor.  Before paint begins to set, quickly stab at the wet paint with a lard soft-bristled brush to remove dots of paint.  Blot excess from the brush during the stippling.  The results are a wall color that's broken up with a mass of very small dots which give a richness to the finish.  Normally, two topcoat colors of paint or wash are used during this technique. You can further the effect by stabbing another color on later with a soft-bristled brush.
Painting techniques are mastered by good painters. With the Arlington Heights Painting Contractor, you'll have all the options in Faux Painting techniques you want.  We can show you samples or help you decide what will look best on your walls as well.  Just call if you have any questions about Faux Painting for your home.